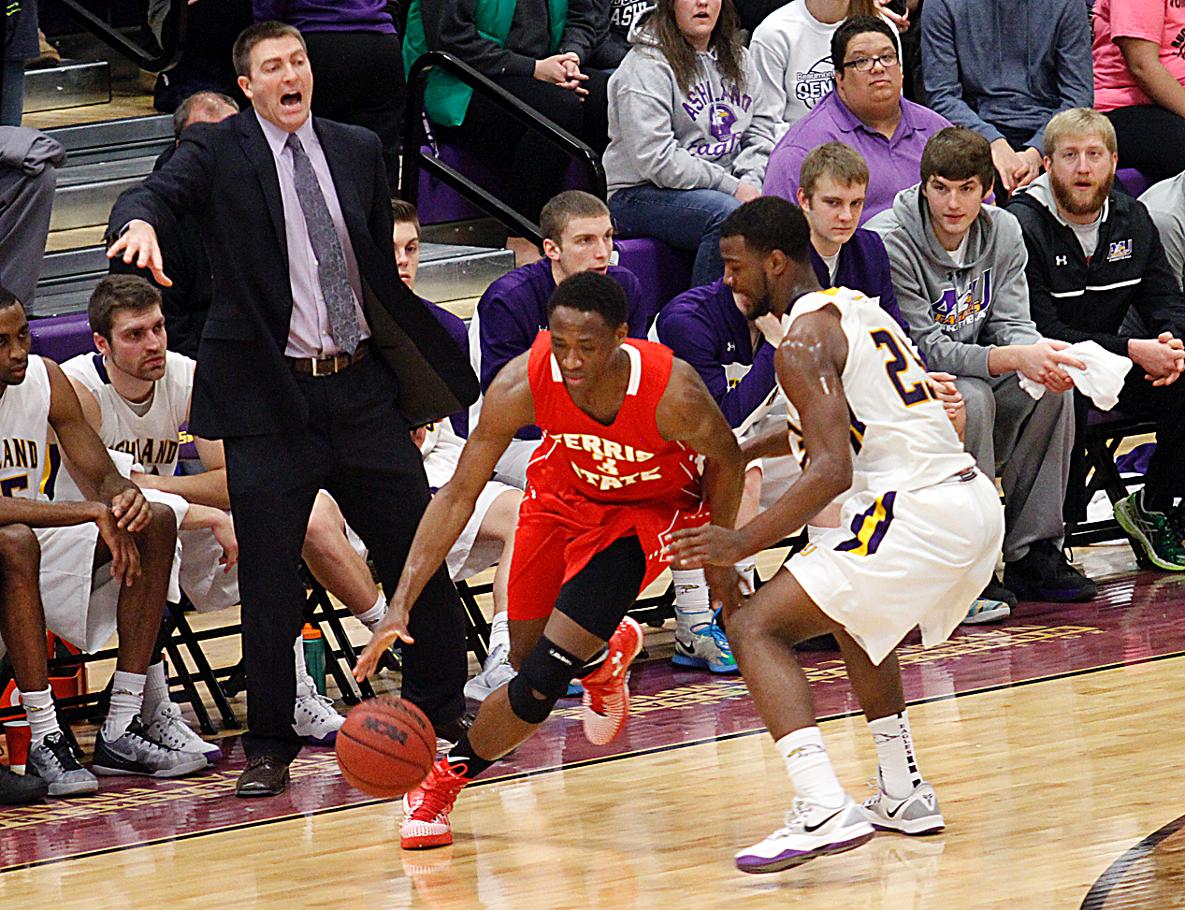 Ashland University's men's basketball team's calling card so far in the young 2014-15 season has been defense.
Defense continued to be a strength for the Eagles Saturday (Dec. 6) afternoon at Kates Gymnasium, but it wasn't enough in a 66-57 loss to Ferris State.
Ashland now is 6-1 overall and 1-1 in the Great Lakes Intercollegiate Athletic Conference, while the Bulldogs are 5-2, 2-0.
The Eagles kept the Bulldogs to 28 points in the second half, marking the eighth half of the 14 they have played this season in which they have kept an opponent to 30 points or less.
"My problem wasn't defensively," said Ashland head coach John Ellenwood. "It's not over until you secure the rebound. That's our problem right there. We have to take care of the ball, and we have to rebound."
Ferris State ended the game with 19 second-chance points off 13 offensive rebounds, and 26 points off 19 Eagle turnovers.
Ashland trailed 50-48 inside of the 10-minute mark of the second half following a 3-pointer by senior forward Paul Honigford. Ashland could get no closer, however, and Ferris State ran off eight straight points to pull away.
The Eagles were looking to make one last defensive stop to try to get back to even in the final minute, but Bulldogs senior wing Drew Lehman hit a 3-pointer as the shot clock was expiring to give FSU a 64-57 advantage with 35 seconds left.
"I don't know how he got open," Ellenwood said. "He's a good player. He's a first-team all-conference kid."
Sophomore forward Wendell Davis paced the Eagles in both points (11) and rebounds (eight) on Saturday, and Honigford added 10 points for his third straight double-digit night off the bench.
The Eagles will begin road GLIAC play next week, traveling to Hillsdale on Thursday (Dec. 11) and Saginaw Valley State on Sunday, Dec. 14.
NOTES: Ashland had 36 rebounds Saturday, running its streak of games with at least 34 boards to 10 straight, the program's longest mark since 2006-07 (12 games)…Honigford continues to come off the bench and produce, as he has 46 points in the last three games after scoring 16 in the first four.
AU
MBKB/DS