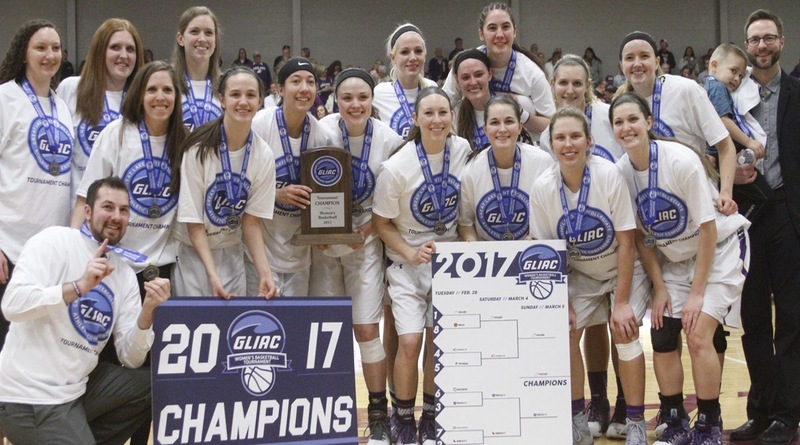 LINK – ASHLAND UNIVERSITY WOMEN'S BASKETBALL PAGE
THE TURNING POINT: Trailing 71-66 with five minutes to play, Ashland started a 19-5 run to end the game with a 3-point field goal by senior guard Alex Henning.
STAT OF THE GAME: Junior forward Andi Daugherty earned her second consecutive Great Lakes Intercollegiate Athletic Conference Tournament Most Valuable Player award thanks to 12 points and six rebounds in the game's last five minutes.
In the first 30 games of its undefeated 2016-17 season, the No. 1-ranked Ashland University women's basketball team hadn't had to win what would be considered a true nail-biter.
The Eagles have now.
In a rematch of the 2016 title game, the Eagles repeated as Great Lakes Intercollegiate Athletic Conference tournament champions, defeating Grand Valley State on Sunday (March 5) afternoon, 85-76, at Kates Gymnasium. Trailing 71-66 going into the game's final five minutes, Ashland outscored the Lakers 19-5 to earn the victory.
Ashland (31-0) has earned the distinction of becoming the first GLIAC women's basketball program to win both four regular-season and four tournament championships in a six-year period.
"It was a battle," said Ashland head coach Robyn Fralick, now 62-2 (.969) in her less-than-two-seasons head-coaching career. "I thought, offensively, there were spurts where we played really well. Defensively, we gave up way too many easy baskets.
"But we fought. We had our backs against the wall. I was really proud of the team for making a lot of consecutive winning plays."
Junior forward Andi Daugherty earned her second consecutive GLIAC Tournament Most Valuable Player award by scoring 12 of her game-high-tying 25 points in the final five minutes of the game. Daugherty also had 11 rebounds, six in the last five minutes.
"It wasn't perfect. No game ever is," Daugherty said. "We just play so hard, and I couldn't be more proud of my teammates. We hadn't been in that position in a long time, and I'm proud of the fight we showed."
Ashland's 31 straight wins overall are two shy of the program record of 33 set from Nov. 13, 2011-March 21, 2012.
Senior guard Kelsey Peare finished with 16 points, three assists and three steals, while freshman guard Jodi Johnson chipped in with 14 points, six boards and three helpers. Both Peare and Johnson landed on the All-GLIAC Tournament Team.
"We knew coming out today it was going to be a tough game until the end," Peare said. "We're just really excited to win. This feels awesome. Really proud of the team."
The Eagles shot 55.9 percent from the field and had a decided 37-25 rebounding advantage.
For GVSU, Taylor Parmley scored 25 points and added seven rebounds and four assists.
Senior guard Alex Henning got Ashland's comeback started with a 3-pointer to cut its deficit to two points. Johnson's layup less than a minute later tied the game at 71, and the back-and-forth began.
The Eagles took the lead for good on a Daugherty layup with 2:40 to play. That began a 12-2 run to finish the contest.
The first half was what one would expect of a championship game, as well. Ashland led 48-41 at halftime, and the Eagles' lead went back and forth between five and seven points for the final 3:39 of the second quarter.
In the first 20 minutes, Ashland hit 60 percent from the field, with GVSU not far behind at 56.3. The difference for the Eagles was second-chance points, boasting a 13-6 advantage.
Ashland started the second half with a Johnson triple to take a 10-point lead, but seven straight Laker points got them back in the game.
The Eagles have won at least 31 games for the fourth time in six seasons. Since the start of 2011-12, Ashland has the most wins (175) and best winning percentage (.884, 175-23) in NCAA Division II.
Ashland entered Sunday as one of six undefeated basketball teams, women and men, at all levels of the NCAA, and the only undefeated women's or men's team in NCAA Division II.
THE NOTEBOOK: Peare became the first player in AU history to post 850-plus points, 300-plus rebounds, 350-plus assists, 125-plus 3-point field goals and 140-plus steals…With 1,411 career points, Daugherty is three away from tying sister and current Eagle assistant coach Kari (Daugherty) Pickens for sixth place on the program's all-time scoring list.
UP NEXT: The 2017 NCAA Division II postseason selection show at 10 p.m. on Sunday on NCAA.com.
AU
WBKB/DS